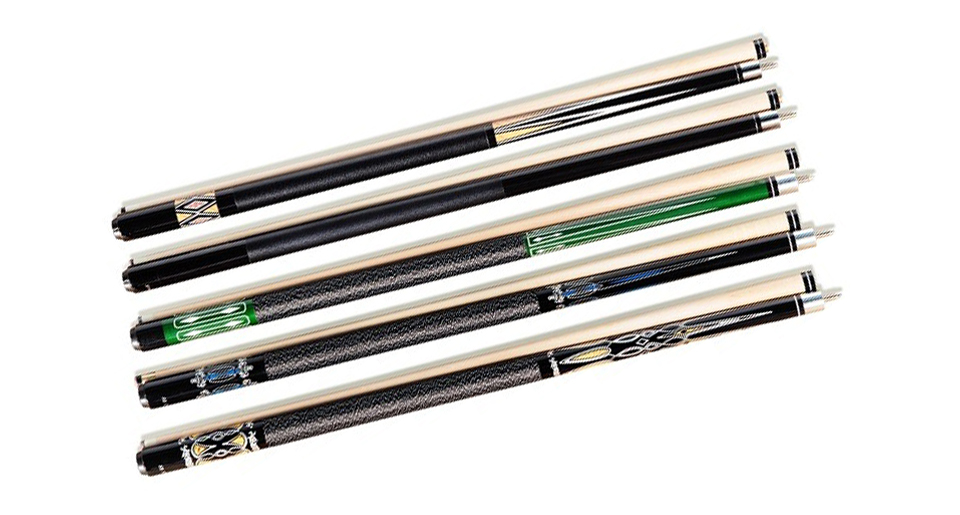 Pool is an incredible sport. It's so much fun to play, and it can be challenging and rewarding at the same time. But having a high-quality pool cue is crucial to improve your game. Not only that but you'll be able to enjoy your experience more if you have a decent cue stick in your hands! The best pool cues under $100 are not going to be the most expensive, but they will be the best value.
It's important to know what you're getting for your money and what the price is going to feel like in terms of quality and performance. That's why we've put together these 5 best pool cues under $100 for you to choose from without breaking the bank! 
ISZY Billiards Short Pool Cue Stick – 17/19 Ounce 42″/48″ Inch Hardwood Canadian Maple Pool Sticks for Billiard Table Sports
The ISZY Billiards Short Pool Cue Stick is the perfect addition to your billiards game. It's affordable, durable, and portable, making it the ideal choice for anyone who wants to get into the game without spending a fortune on equipment.
ISZY Billiards Canadian maple pool stick is made from premium materials and designed with performance in mind. Weighing in at 17/19 ounces, this 48-inch cue stick will give you a confident look while providing the sturdy support you need when playing on a tight table. Each cue end has a 13mm fiber ferrule and glued-on leather tip for added durability and accuracy in your shots.
This 2-piece cue stick can be taken apart easily for storage or travel purposes. This design makes it easy to put together with a 5/16 x 18 screw so you can take it with you wherever you go.
The ISZY Billiards Short Pool Cue Stick comes in three different colors for you to choose from: blue-black, brown-black, brown-white—and each one comes with its own unique style! So whether you're looking for a gift for someone who loves billiards or just want something stylish for yourself, this short pool cue stick is sure to please!!
Viking Valhalla 100 Series No Wrap 2 Piece 58" Pool Cue Stick, Billiard Cue Stick, Bar or House Use for Men or Women
Improve your game with Viking's Valhalla 100 Series No Wrap 2 Piece 58" Pool Cue Stick.
Whether you're a beginner or a seasoned pro, this cue will help you improve your game. It features a 58" maple shaft, two-piece design for easy transport, industry standard stainless steel 5/16" x 18" threaded joint, and 13mm leather tip. This premium import is designed by Viking's Cue Artisans who stay involved in the manufacturing process to ensure each cue is top quality.
All Valhalla cues are assembled, rolled and closely inspected before shipping to make sure they meet Valhalla's high quality standards.
This high-end cue features all the same stackable interchangeable weight bolt system that comes standard in Viking's American Made lineup. But it also offers over 100 unique designs and colors to choose from—get one that matches your individual style!
AB Earth 2-Piece 58″ Pool Cue/Pool Stick Ergonomic Design Hardwood Canadian Maple 13mm Tip 18-21oz Billiard Cue B1S
If you've been looking for an ergonomic design pool cue that's a little out of this world, look no further. This 58″ pool cue from AB Earth is Canadian hard maple. It's got a hand-polished wavy shape that makes it just as comfortable to hold as it is stylish.
Plus, the handmade painting on this cue makes it unique—each one has a different design inspired by outer space! And you can count on the high quality of this hand-polished wavy butt to last through countless games.
This is the kind of cue that will make your friends jealous when they see how well you play. It even comes with a leather tip so your shots are always accurate and powerful!
If you're looking to up your game and get serious style points, then this is the pool cue for you!
Viper Junior 48″ 2-Piece Billiard/Pool Cue, Spider, 16 Ounce
If you're looking for a pool cue that's lightweight, compact, and easy to store, this might be the one for you.
The Viper Junior 48″ 2-Piece Billiard/Pool Cue is one of the best pool cues under $100. It features a 2-piece construction that makes it easy to take on the go. In addition, its lightweight ABS joints will give you consistent feedback during play. Its edgy tattoo style graphics make it stand out from other cues. and look cool while you're playing!
Each billiard cue has a 13mm Le Pro leather tip, nylon wrap and a traditional rubber bumper. This pool cue is available in 16 ounce cue weights. It is perfect for those tight spaces or perhaps a younger player looking for a lighter weight.
AB Earth Ergonomic Design 13mm Tip 58″ Maple Pool Cue Stick Kit with Hard Case
This pool cue kit is a great intermediate option for players who are looking to upgrade their game. The 13mm leather tip is accurate. The Irish linen wrap ensures that the grip is firm and won't unravel like other wraps. The color is absolutely gorgeous and eye-catching. It will definitely make you stand out in a crowd.
The kit also comes with a hard case, joint protectors, 2 chalks and 2 gloves. That is everything you need to take your game from amateur to professional!