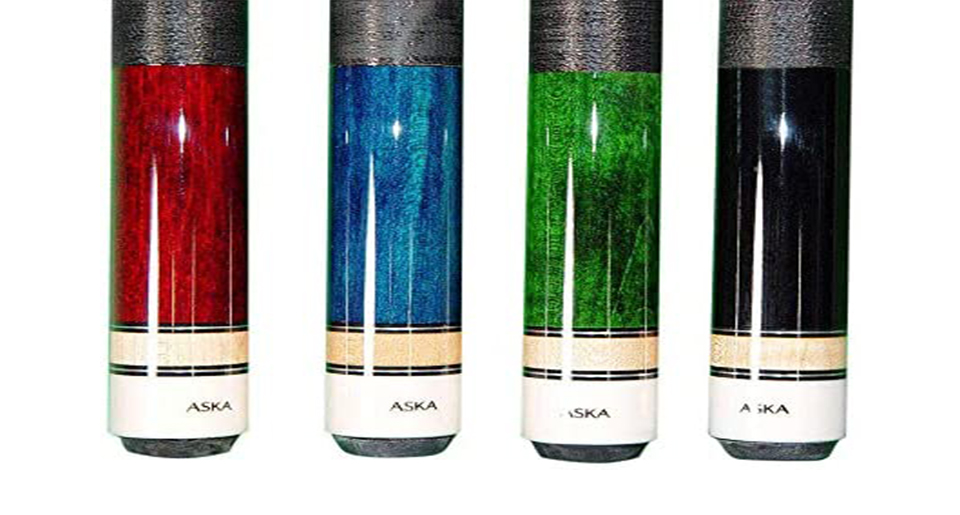 There is nothing more pleasurable than playing a game of pool. It is one of the most relaxing activities that anyone can do in their leisure time. It helps you release stress, and also allows you to bond with friends and family members. One thing that makes this game even more fun is having the right equipment when playing it. For example, if you don't have an adequate cue set then there is no way you will be able to play efficiently or enjoyably. Therefore, we have compiled this list of the best house pool cue sets so that you can find something perfect for your needs!
GARSEN 4 Pieces Pool Stick Cue Stick 58 inch 18 oz 19 oz 20 oz 21 oz Pool Cue Billiard House Bar Pool Cue
The GARSEN pool cue set comes in 58″ length and 100% leather grip. It comes in a set of 4 cues with different weights: 18 oz,19 oz,20 oz and 21 oz. It also features a 5/16 x18 pin and a 13mm leather tip. This high-quality pool cue stick set can be used to play snooker or billiard games with your friends or family members.
Set of Aska L2 Billiard Pool Cue Sticks, 58″ Hard Rock Canadian Maple, 5/16×18 Joint, 13mm Hard Tip, Mixed Weights
Aska L2 pool cue sticks set is a great way for you to begin your journey playing billiards. There are four different types of pool cues in this set, one of each: Black 21-ounce, Blue 20-ounce, Green 19-ounce, and Red 18-ounce. Moreover, the cue length is 58 inches (standard pool cue length), and the shaft is made out of Canadian Hardrock Maple.
The joint on these cues has a stainless steel 5/16×18 joint with a nylon wrap, rubber bumper, and 25mm white ABS ferrule. The tip on these pool cues is 13mm long lasting hard glued on tip.
Set of 4 Pool Cues New 58″ Billiard House Bar Pool Cue Sticks
With these billiard cue sticks, you'll have everything you need to start playing pool right away. The shafts are hardwood and have a 5/16×18 joint that will allow them to connect seamlessly with most cue cases and extensions. Furthermore, they have a standard weight that makes them easy to handle.
These pool cues have 13mm leather tips and provide an exceptional grip for better control over every shot. In addition, the butt is beautifully designed with an overlay decal that adds style and class to any room where it's placed!
This set of 4pcs 58″ pool cues comes with everything needed for top performance: 4 shafts, 4 tips and 4 butts! There's no reason why anyone can't start playing pool today – all you need is one of these fantastic 58″ billiard house bar pool cue sticks!
Set of 5 Pool Cues Billiard House Bar Pool Cue Sticks
This pool cue set includes 5pcs of 58″ pool cues. They are reliable and recommended for residential use. In addition, each pool cue comes with a 13mm leather cue tips, hardwood shaft with a 5/16×18 Joint. Standard weight with a beautiful overlay decal butt.
Above all, this is a great pick for the price! Well made, sturdy and have good balance. The shafts have a nice design with white accents that really make them stand out from the crowd!
ProSniper Pool Cues Set of 4
The ProSniper two-piece pool cues set has been carefully selected for its high quality and its unique design. The ProSniper pool cues set is an excellent gift idea for your friends or family members who. You can also have the set at home as it is perfect for residential and commercial use. The cue sticks are made of Canadian Maple Wood and come with a beautiful wrap design. Each billiard cue length is 58'' and finished off with a 13mm ProSniper Tip. Each cue weighs 19 ounces which is the most common weight for billiards.
Conclusion
In conclusion, we hope that this article has helped you find the right house pool cue set for your needs. We know there are many options out there. But we think these 5 are some of the best pool cue sets available in the market today.